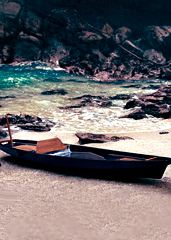 Your spring to-do list is coming along nicely.
Purchase Easter whiskey: check.
Purchase backup Easter whiskey: check.
Get some boat shoes: check.
Buy a boat for wearing said shoes: well, you're still working on that one.
Good thing we know a guy.
Introducing
Kayak 1 by McLellan Jacobs
, an incredibly handsome and fully customizable watercraft you'll employ for afternoons on White Rock Lake, available online now.
So, Kayak 1... turns out, it's not the president's personal skiff. Surprised us, too. Instead, this single-person vessel comes from a couple of New Zealand boatbuilders who've constructed ships for the America's Cup. Which is precisely the kind of overqualified pedigree you require in a kayak.
Now, before you can go all Winklevoss twins on the water, you've got to purchase one for yourself. And for that, there's the Internet. So hop on their website and sift through your options. You'll start with a carbon-fiber hull, and from there, you'll do a little customizing. Choose from ash or teakwood for the interior. Pick out a nice clear coat. Have them paint a name on the side. Any name. Could even be your own.
Then, once it arrives, just pick it up (it's only about 40 pounds), toss it in the water and start kayaking. You know, rowing and barrel rolls. That kind of stuff.
Pretty sure that's kayaking.