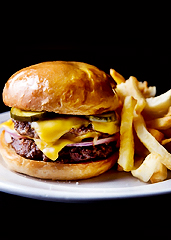 The Braves home opener.
You're excited. You have every right to be excited.
But before that fateful first day of April comes, there are two things you need to prepare yourself for:
1) Chipper Jones won't be there.
2) The Holeman & Finch burger will be.
We know... roller coaster of emotions.
Foam-finger up and prepare for
H&F Burger
at Turner Field, your chance to raid three separate stands' worth of the famed and elusive beef disks while you cheer on the good guys, available at Monday's home opener and every Braves home game thereafter.
To be clear, this is the first time these burgers have ever been offered outside of Holeman & Finch on a permanent basis. And it's happening at the stadium.
So, 7:05pm. Monday. Braves vs. Phillies. Be there. Also, be looking for the two H&F-specific concession stands on either side of the scoreboard and the stand-alone cart behind home plate. Hand someone money. Accept a double-patty cheeseburger on a butter-toasted bun in return. You'll win that trade. It'll be great.
And you know that thing they do with the 24 burgers at 10pm... Well, they're doing something similar here. There are 24 predetermined seats near each of the outfield stands. Secure one of those seats online and you secure burger-related privileges. Namely, skipping everyone else in line.
Whatever their fascination is with the number 24... you approve.