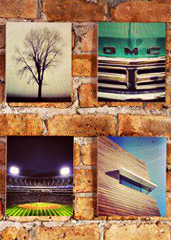 Instagram selfies.
We're fairly certain they'll never hang in a dedicated wing at the Louvre.
Although now, they technically could.
Technically.
Say hello to
InstaThis
, a new service for turning your most remarkable achievements in Instagram photography into printed works of art, online now.
It's pretty simple. You have Instagram photos. These guys have a website. You enlist said website whenever you've just snapped the kind of photo that'd look great hung above your couch. Like that expertly filtered sunrise over White Rock. Or that masterfully framed shot of queso.
All you need to do is take an Instagram picture of something (a half-eaten cheeseburger should do). Then, visit this site, select the photo and start checking off some preferences—like the material of your canvas (acrylic or wood) and the size of your print (the larger the better). Hit submit. Ready your living room for a sepia-toned infusion.
Oh, and since there's a certain gift-giving holiday coming up, you'd probably like to know that these guys give discounts on bulk orders.
This is going to be some Arbor Day.