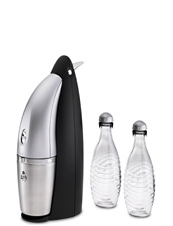 As much as you relish the occasional night at the bar, it's true that some nights call for staying in.
Near your home bar.
And so you're always looking for anything to up your Sam Malone quotient—i.e., a new tool to help others see just what a caring and gracious host you really are…
Introducing the
Penguin Sparkling Water Maker
, the latest weapon in your home-bar arsenal.
Think of this gadget as your very own barman's soda pistol, only in the form of a classy-looking Williams-Sonoma appliance.
With the ease of your current water filter, it takes water from your tap and transforms it into fresh sparkling water in a matter of seconds and with only a few twists and button-pushes—allowing you to instantly whip up some of the alcohol world's most dedicated cocktail servants, like the
Vodka and Soda
and the
Gin and Soda
, as well as more envelope-pushing creations (for your more envelope-pushing guests...) like the
Ironman
(whiskey, vodka, soda, ice).
Of course, the machine works just as well for drinks sans alcohol, in case you or someone you're entertaining just wants a glass of something with a bit of fizz.
And you're out of Hawaiian Punch.