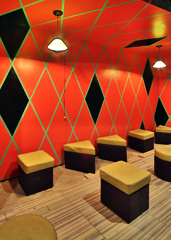 We hate to break this to you.
But if your friends don't dance, they're no friends of ours.
You may know it as the Men Without Hats Rule.
Anyway, it won't be an issue this weekend...
Behold
Bobby's
, a new LES hall of Jazz Age immodesty and good old-fashioned getting down, opening Saturday.
This was Inga for a spell. But now the guys behind Southside and GunBar have converted it into an art deco-y throwback to the 1920s, where you'll get sweaty while moving rhythmically to music from later decades.
Your job: pack up your comeliest acquaintances and show up. Enter. On your right, there's a GIF-making photo booth that lets you send stuff straight to Facebook, which... great. (Also: dangerous.) Beyond that: tobacco shop. Resist it until you see the bar.
No, actually, skip that, too.
By now, you've human-chained your way to the velvet-walled champagne room. If you stop here, you're free to relax with a Broker's Bonus (a bottle of vodka and two bottles of champagne). Cheeky.
Keep pressing on, though. Down the stairway on the left is the dance floor—banana plants, banquettes, floor-to-ceiling mirrors fashioned into a sweeping art deco skyline. Classic dance-floor stuff.
But about that tobacco shop: let's say you need an intermission. Maybe a smoke. Or some Swedish candy. Or a bow tie and top hat. They've got it covered.
And Duane Reade's only got, like, 75% of that.