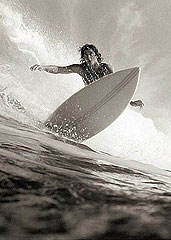 Surfing. It's a very poetic experience.
Someone should totally write a book about it.
And then you should totally put a coffee table under it.
Flip through
A Golden Age: Surfing's Revolutionary 1960s and '70s
, a photographic look at the handsomest era in surf history, available now.
In its simplest form, this is a book about surfing. In its sort of obnoxious form, this is a book about the essence of surfing. Black-and-white shots of surfers riding massive swells. Faded color photographs of waves crashing along Honolua Bay. Sepia-toned images of bronzed surfers looking all '60s and stuff.
It's the kind of thing you'll want to keep around a beach house solely for the fact that it looks damn cool. Every image, every essay, all shot and written by surfers who were active in the sport during these formative years. So yes, each page in the tome, from the dissertations on shortboards to the odes on counterculture to the photos of Australian surf competitions, has a real air of authority.
And a slight whiff of psychedelics.