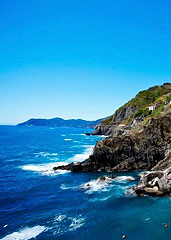 Everyone likes a good soundtrack when they're working.
Rocky had "Eye of the Tiger."
Those dwarves had their whistling.
And you, well, you have 30 minutes of uninterrupted ambient coffee shop sounds.
Bob your head, snap your fingers and get ready for some
Soundrown
, a website dedicated to playing noises designed to increase productivity, online now.
What you've got here is a collection of the most motivational sounds known to man. Real-life sounds. Like crashing waves recorded on the San Diego coastline. Or a train rolling through Palo Alto. Or crickets. Nothing gets the blood pumping quite like crickets.
So the next time you're working—could be right now, could be sometime tomorrow between your lunch break and your shiatsu massage break—just pull up the site and pick your preferred sound bite. Put on some headphones, drown out any distractions and let your mind focus on the aural pleasures of something soothing like a burbling fountain. Okay, now you're ready to take care of some serious work.
And by work, we mean brackets.