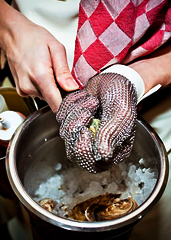 Think about the last party you went to. Nothing wrong with it. Good drinks. Some nice-looking people.
And yet, you couldn't help but think: "I wish a woman would walk up to me, shuck an oyster and hand it to me."
Okay, maybe you didn't think that. But only because you didn't know such a thing existed.
And now it does.
So put your cocktail fork down for a second and meet
Oysters XO
, an outfit that trains oyster shuckers to walk around your party bestowing mollusks on everyone, booking now.
Like many a party enhancer, this one has its roots in Amsterdam, where someone decided that a stationary raw bar was far too... stationary. The solution: shuckers wandering around with buckets hanging from their waists—buckets of fresh oysters, condiments and shells.
So you're having a party. Call up these guys. They'll let you pick from about 200 varieties of oysters, and condiments like fresh lime juice, red wine vinaigrette and, yes, vodka and Bloody Mary mix.
And they'll send you a shucker (or two, or 10) who can prep at least 100 bivalves in an hour. They normally wear white aprons, but if you're doing a themed party, they can wear something else, too.
And the Martian oyster shucker was born.