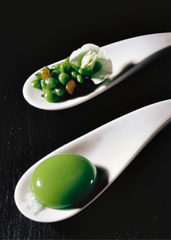 El Bulli. What a place.
A fantasyland of elusive reservations, bacon spheres and caviar foam.
Or it was. Until it closed forever.
Good news, though: they're opening a new location.
Much closer. Better reservation policy. Feels super-homey. It's great.
Except... you're doing the dishes.
Introduce your pantry to
Albert y Ferran Adrià
, a new line of do-it-yourself molecular gastronomy essentials brought to you by... wait for it... Albert and Ferran Adrià, available now.
You know Ferran Adrià. Head chef at El Bulli. Pretty much rewrote the laws of culinary physics. And you... don't know Albert Adrià. But he's Ferran's brother. Together, they're transforming your pantry into a culinary research lab of sorts. (Goggles. Definitely get goggles.)
Now, ravioli balloons and edible air may
sound
tricky. But everything's simplified into three categories:
Texturas
, chemicals for spherifications and gelifications;
Lyo-Sabores
, a fancy made-up Spanish word for freeze-dried fruits; and
Ingenios
, covering tools like stencils for making your bread pudding look like a maple leaf. Just basic human necessities, really.
So say you're looking to impress someone with your kitchen wizardry. You'll stock up on this stuff, and then... well, we have no idea. But that's where the instructional DVDs come in. You'll be knee-deep in emulsified cherry pudding steak in no time.
Assuming five to seven hours counts as "no time."