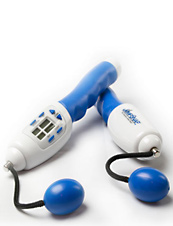 When it comes to certain inventions, sometimes less is a whole lot more. A swimsuit becomes a bikini, a sedan becomes a convertible, and a vodka martini becomes a glass of vodka.
So in the spirit of elegant simplification, allow us to introduce the
JumpSnap
, the rope-free jump rope, a new weapon in your ass-kicking fitness arsenal.
Think of JumpSnap as the pared-down, futuristic vision of Rocky Balboa's trusty sweat-generator. Instead of thwacking around a jump rope—posing unnecessary risks to your home's various light fixtures, marble floors and the occasional toweled passerby—this nifty gadget allows you all the body-chiseling features of the classic exercise without any of the inconvenience/rope burn.
Just grab the handles, set your iPod to the
Rocky IV
soundtrack and start hopping—the LCD screen will show you how many jumps you've completed and calories you've burned, while also emitting a jump-rope "snap" sound (so the rope is there in spirit). With a bit of practice, you'll be mastering the boxer's shuffle, the side-to-side and, of course, the venerable criss-cross. Do it at home for ten minutes a day, or you can take an intro course with it at the gym.
Okay, probably do it at home.