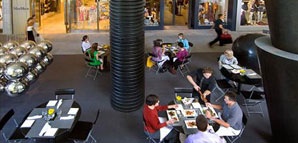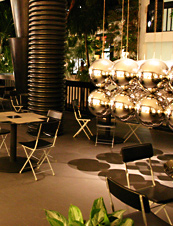 People-watching is an art unto itself. And we're always on the lookout for that next great museum…
So when we heard about a new al fresco spot opening at the Bal Harbour Shops—the Louvre of Miami people-watching—called
The Terrace of Santa Fe
, we were intrigued. And after visiting, we think it's probably something you need to see.
First, let's talk about the stage. The Terrace is a heavily Euro-influenced cafe that has arranged its black metal tables amid huge corkscrew columns and oversized abacus-like metal orbs. Which means if you ignore the Tiffany's across the way and the Armani boutique next door, you'd be tempted to think you were dining in an actual museum courtyard, with soaring bamboo trees and koi fish ponds. (Either that, or on the desk of a CEO from a 1980s movie.)
Now, for your Picassos and Monets. Don't be surprised if you spot a few Russian billionaires bathed in Chanel shopping bags, or a half-dozen South American models-turned-moms taking a breather from pushing designer strollers. Try to grab a seat at one of the tables flanking the second-floor railing, the best spot to pair your spectating with tapas like shrimp ceviche, seared scallops and yellow tomato gazpacho, along with a prosecco cocktail.
It sure beats shopping…