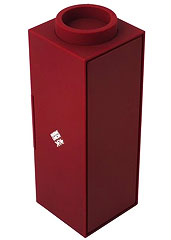 Here's the problem with working in your office: there's no beach.
Here's the problem with working from the beach: there's no outlets.
Here's how you fix that... while wirelessly streaming some Jimmy Buffett.
Power up
Switch
, a portable speaker that doubles as a phone-charging/teleconferencing workstation, available now.
Think of this as the infinitely less awful solution to those Bluetooth headsets. It looks like a wireless speaker. It functions like a wireless speaker. But it's got a built-in duplex microphone that's capable of receiving multiple phone calls simultaneously. So it also functions like your conference room.
Just order one online and let the necessary parties know that you'll be working from a pool on Collins Avenue for the foreseeable future. Then grab a chaise somewhere in the sun. That's your new office.
When you're not busy, you'll use this thing to play music. When your phone rings, the music will automatically pause and your call will cut in. And when your phone is running low on battery, well, this thing can charge it.
Yeah, it's cool like that.