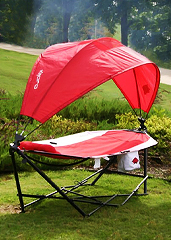 Getting warm out there. Pretty soon, you'll be having exchanges like this:
You:
It's such a nice night out. Let's just lie down and look at the stars.
Her:
I'm not lying down here. There's Jell-O everywhere.
You:
Right, but just allow me to take this large backpack of mine and turn it into a hammock.
Her:
Oh, that's what you've been carrying around. I was worried you were insane.
Or something like that. Anyway, here comes the
Kijaro All-in-One Hammock
, the next level of weekend preparedness, available now.
In short, this is the kind of sun-shielding, beer-chilling hammock that gives you every reason to stay put.
Sure, the brand name sounds like Kilimanjaro. And yeah, you could bring it there. But you could also bring it to your front porch. Or to Rock Creek Park, to set up a particularly leisurely base camp. See, the whole thing straps onto your back. And when you're ready to unfurl it, boom, it's a hammock in three steps.
More specifically, a hammock with a six-can-capacity cooler, two cup holders and a magazine holder (for
Hammock Monthly
, naturally). And should the elements begin to get to you, there's a canopy to shield you from the sun or any temporary drizzles that pop up.
BYO mosquito net.