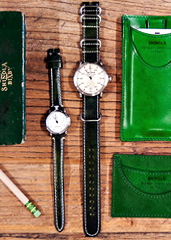 There's this new company in Detroit. Name:
Shinola
. Game: making articles of American excellence right in Motor City. Like leather goods. Bikes. And the finest watches made stateside since... well, it's been a while.
It's pronounced "shine-ola." Long ago, Shinola was a shoe polish brand. During World War II, soldiers would say, "He doesn't know sh*t from Shinola." So... there's that.
Anyway, they're back. Observe...
They're making bicycles. Beautiful ones.

Fitting, considering Detroit's the center of the wheeled transportation universe. They're making commuters and cruisers from 100% American steel, all as indestructible as they are head-turning.
Potential uses:
Commuting invincibly. Extreme grocery shopping. Wall art.
They're making leather goods. (Also beautiful.)

Wallets, rucksacks and pencil pouches, to name a few. Hand-stitched and stamped "Made in Detroit," so you know it's legit. Or at least where your pencil pouch was born.
Potential uses:
Holding money. Holding shoes. Holding up to your face and just breathing it in.
They're making watches. Seriously.

Normally, your timekeeping requires a legendary Swiss watchmaking firm. But this is different. These are gorgeous, put-it-in-the-will-quality watches made by a new breed of American watchmakers who... were trained by some legendary Swiss watchmakers.
Potential uses:
Supporting the economy. Giving the best-looking "It's 11:53" of your life. Heck, maybe even keeping time.
You do forget your phone sometimes.