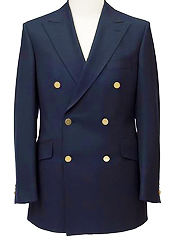 You saw
The King's Speech
.
Great movie. Even better soundtrack. But you digress.
The biggest takeaway: that Colin Firth guy could really dress.
And now you can look like him. Only less 1930s-ish.
So give a big "ello, govna" to
Benson & Clegg
, the official tailors to King George VI and current warrant holder for many of Prince Charles's accessories. They're taking appointments now for a three-day pop-up next week at the Sterling & Burke shop in Georgetown.
First things first: you don't have to have a title like "earl" or "duke" to get in on this (though they'd probably move you to the front of the line if you did). You just have to dig really nice cashmere, blue blazers and club ties. Maybe a coat of arms here and there.
If it's a suit you're after, you can pore over thousands of fabrics for made-to-measure, or go full bespoke, for which they'll spend 50 hours making it in London.
But if you're just looking to jazz up your existing suits, you'll want to look at their blazer buttons depicting the royal shield, cufflinks made from 19th-century coins, even a new badge for your blazer.
Your Boy Scout merit badges weren't cutting it.