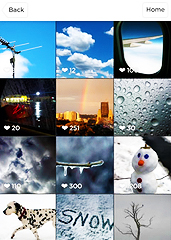 Well, here comes the big one. Again.
By now, you've surely raided the supermarket for bottled water and paper products, and unlocked your vault of military-grade MREs.
Only one thing left to do: take some cool photos of Mother Nature's wrath.
Introducing
Take Weather
, a new app that combines local weather and forecasting with real-time, user-generated photos of, well, the weather that you're looking for.
Think of this as a weather app combined with the work of some weather-obsessed Tumblr users.
On a normal day, you'll wake up, call up this app and get the current temp, daily highs and lows, humidity and wind. Nothing new there. But you'll also get a slideshow of user photos showing you what the hell it looks like outside where you are (helpful if you wake up in the Batcave).
But tomorrow when you wake up, you'll know it's snowing. So time to get out there and contribute to the real-time narrative. Which means snapping a pic of your friends hoisting a toast in front of a massive snowbank.
Or maybe just a background of the windswept whiteout.
With your snow angel in the foreground.