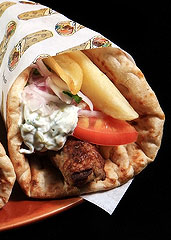 So, Greece...
Economy: in the toilet.
Protests: in the streets.
Stamos: relegated to yogurt commercials.
Man, these guys are really due for a break... hopefully they get one soon.
Anyway, here's a gyro-mobile.
So prepare to welcome the
Little Greek Food Truck
, a descriptively named mobile operation that's bringing spit-roasted tastes of Greece to streets all over town, rolling out tomorrow.
This is like a big blue lunch box on wheels. One that'll soon be doling out all kinds of classic Greek fare—lamb pitas, souvlakia, gyro platters—to places like the Arts District, Klyde Warren Park and other friendly confines for midday pita breaks.
So go ahead, start camping out. Actually... don't. It really makes more sense to just follow them on Facebook, uncover their location and then step up to the window for some gyros with homemade tzatziki. Or the grilled skewers of beef tenderloin with a side of flaky spanakopita. Go ahead, you know you want to say "spanakopita."
Oh, and if you were thinking, "Hey, Saturday might be a nice day to briskly jog 3.1 miles," how's this for good news. These guys will be at tomorrow's 5K Run and Food Truck Festival in Richardson.
No, you don't have to run to eat.