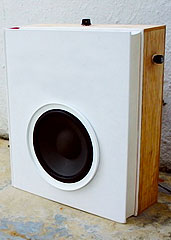 Coffee-table books.
Let's be honest, nobody reads them.
So they might as well be something more useful.
Like speakers.
Cue the band for:
Audio Book
, a rather ingenious means for upcycling discarded books into house speakers, available now.
Reflect upon all those times you've been straightening up the coffee table and, after casting a wayward glance at that Shepard Fairey monster in the middle, thought to yourself, "It'd be awesome if that thing could pump tunes while I dust." Well, here you go.
So here's what will happen. You'll start by dropping some guys in Singapore
an email
. Then, you'll tell them what you're looking for in a book/speaker. You know: the book size you'd like, maybe even the actual tome they can use from their supply of books (presumably all from shut-down Borders).
In a few weeks, you'll be shipped your music maker and be able to blast Kid 'n Play on an ex-book to your heart's content. Note: the thicker the book, the better the sound.
Oh, and we think you'll like what you hear. Each speaker is custom-made, so each one carries a unique resonance. The makers even use recycled speakers from actual music studios.
Chances of getting a speaker John Tesh has used at some point: small, but real.