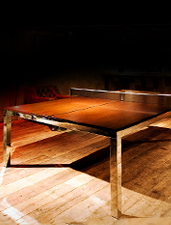 Dear Ping-Pong Tables,
You're great. Don't change a thing.
Love,
Everybody who has yet to behold
Table & Tennis
, an incredibly limited-edition ping-pong table that doubles as an unnecessarily beautiful conference room and/or dining room table, taking orders now through Friday only. (Yeah, that kind of limited-edition.)
Now, these things. These ping-pong-tables-turned-other-things... things. You've probably seen a few of them floating around before.
But there's something special about this one. Something that makes it not only acceptable, but downright
necessary
to toss a giant gaming table right in the middle of a formal dining room. Or a formal conference room. Or any room severely lacking a general sense of paddle-sports-related mirth.
So here's what needs to happen. You'll go to the site and click on the green button to reserve your table. Which needs to happen no later than this Friday. Which will then result in a team of designers going to work on your new walnut-veneer ping-pong table with a mirrored stainless-steel base, a quick-release net and hidden velvet-lined drawers for paddle-and-ball storage.
When it arrives... hey, do your thing. Budget projection meeting turned single-elimination tournament: sure. Baked Alaska turned high-stakes doubles match: why not.
Especially considering how delicious Baked Alaska is.