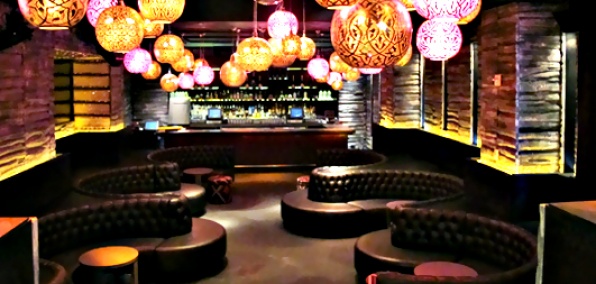 And finally, the Oscar for outstanding achievement in a leading performance by a sexy lounge (live action) goes to...

The Spot, a sultry new grotto of bottles and being seen, now open at the Trump SoHo.

Let's get something out of the way. This may well turn out to be a place where members of the Sevigny family pass the time with bottles of champagne and impossibly proportioned friends. There may be a strict "sorry, can't help you" door policy at some point. But right now, it's all yours. A place to imbibe with a big group and have your own DJ-spun all-nighter.

It's pretty seductive. But simple. Just a handful of circular, tufted-leather banquettes beneath a flurry of gold-hued Chinese lanterns. And all of it surrounded by stacked-stone walls, a small bar and a corner DJ booth. That's it. That's the whole place.

So you're going to take all this under-the-radar-ness and exploit it. You and probably 10 friends. You'll get in through the hotel lobby. Hang a right at the front desk and go through that double door. Now order up a bottle of something with alcohol in it. They'll bring you that. And speaking of, you've got a little bit of dance space in the middle of the place.

Try not to hurt anyone.