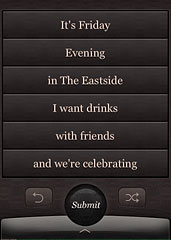 SXSW.
You're familiar.
You're probably fine-tuning your road trip playlist as we speak.
On the schedule: see a few shows... hit a few parties... engage in an exhaustive search for Austin's greatest queso...
Sounds fun. And sounds like you could use a hand. Allow us...
Introducing
The Next Move Austin
, the latest incarnation of UrbanDaddy's award-winning free mobile app, now live in Austin to assist with all your life-changing decisions.
This is the next best thing to having an UrbanDaddy editor in your pocket. It's the same location-based concierge you've employed in Dallas to make your adventures more... adventurous. Provide a few details—where you are, who you're with, what you want—and the app will do the rest. (Like, say, finding you and your mistress life-affirming bowls of queso at 3am on Friday.)
So a couple weeks from now, when you're fresh off Dave Grohl's keynote and wandering aimlessly through Downtown in serious need of oysters and cocktails, you'll employ the app. Just answer a few questions about your current hopes and dreams, then let this thing work its magic.
Soon, with our uncanny flair for reading your mind and your... thumb dexterity, you'll be slurping oysters at a polished maritime joint on West 6th and sipping whiskey-spiked cocktails in a former brothel.
Feel free to take all the credit.