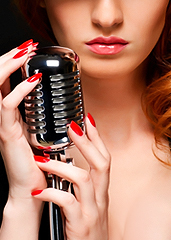 There are three kinds of people in this world.
1) Those who get their news by reading a newspaper.
2) Those who get their news by having a professional voice-over actor read it to them.
3) Those who are wondering precisely what the hell we're talking about right now.
If you're a #3, congratulations: you get to hear all about
Umano
, a new iPhone and Android app that delivers the day's news through the highly underrated medium of silky-voiced thespians, available now.
Things happen in the world. Good things, bad things... newsy things. And since you like to stay up-to-date on those things, it's probably best to do it in a way that makes you feel at least 78% more like the casting director of a voice-over-specific acting agency. (You've been meaning to feel more like that lately.)
First, download the app and create an account. Once you do, you'll be presented with individual articles pulled straight from every major news source imaginable.
Forbes
. Yahoo.
BusinessWeek
. Bloomberg. They're all in there.
Then just click on an article, press play, and there he is: a professional voice-over guy reading the news to you. You can save favorites, rewind or fast-forward and search specific articles by interest. Pretty crazy, we know.
Seriously, though, an actor just read you the news.