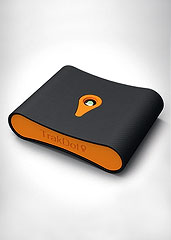 Wisconsin.
"America's Dairyland."
As fine a state to visit as any other in the union.
But ever since your luggage was found in Madison after you landed in Cabo, hearing its name still conjures black, black thoughts.
Had this been around, you and Wisconsin might still be friends.
Avoid ire for harmless states with
TrakDot Luggage Tracker
, basically a transmitter for tracking your checked bags with your phone, accepting inquiries now for its April release.
Keep this in mind while plotting your various sojourns this spring: Grenada. Bermuda. Delaware. Because once it debuts in April, you'll stuff it into your suitcase to monitor your suitcase's whereabouts. Provided you've popped in a couple of AA batteries and linked it to your phone, it'll send out a mobile signal letting you locate it (within 30 feet) via their free iPhone or Android app.
When you get to your hotel suite, your parcel's journey from start to finish can be viewed on your computer. (Although if it hasn't gotten lost, you're probably wasting valuable nude-beach time.)
And, yes, it's FAA-compliant.
So if you get searched, don't blame us.