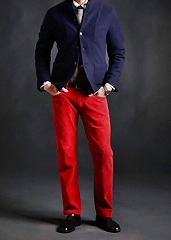 Today, we'll talk about Kennedys. And Connerys, too.
But most of all, stuff that would look good on both of them.
Namely, the stuff from
Grayers
, a new line of prep-inspired threads from a couple of Ralph Lauren vets, available now at Bloomingdale's locally and online.
These clothes are named after the gray flannel trousers that young Brits began to don after the war, so yeah, you can expect a casual, mid-century collegiate thing going on. Great for the weekends. Or if you work for a dot-com.
While it's still f**king miserable out, you can suit up with some Scottish-inspired, boiled-wool blazers, prewashed cords and heavy, peak-lapel cardigans—the kind of stuff Sean Connery would wear while cursing out Trebek.
But when spring rolls around, you may find yourself in Hyannis. Palm Beach. Places where Kennedys and other people with nice teeth congregate. And you'll want to do so in double-vented madras jackets, military-inspired twill blazers and gingham-check shirts.
And if you're going to take in a game while you're down in Florida, pick up one of their two-tone "baseball cardigans."
No, they're not cardigans on steroids.