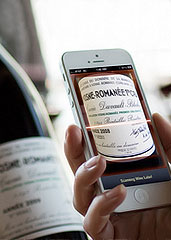 Ah, delivery.
You order things. You wait. And then, at some point, said things come to your door. Brilliant.
Guess what: you can do that with tacos. But you probably knew that.
Also, guess what: now you can do that with wine.
Loosen up your Instagram thumb for
Drync Direct
, an app that lets you locate bottles of vino and have them delivered in Massachusetts, available now.
Fade in: you're in Napa for a conference. Post-conference, you're having dinner with that yoga instructor you met pre-conference at a coffee shop. Across the table, in the blue lagoon of her eyes, you see the depths of forevermore... and realize that the random bottle of wine you ordered is dynamite.
Instead of tearing the label off the bottle (which always communicates sexual frustration), you'll pull up this app and snap a picture of the label. The app recognizes over 700,000 wines, which for the first time can be delivered to your home (through a distribution partner, making it legal). If it doesn't know it, their people identify it for you in a few minutes.
Oh, and if you order more than six bottles at a given time, the shipping fees are waived.
So there's free shipping.