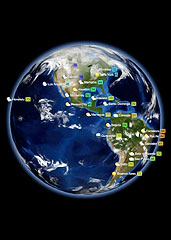 Nemo hath arrived.
Sadly, that doesn't mean you just acquired an adorable orange clownfish.
What it does mean: you need to stock up on essentials. Bourbon. Ice. A shimmering new rocks glass (maybe water, too).
Also, this:
EarthBuzz Weather
, an interactive 3D forecasting app that'll help you track the mother of all New England storms, available now for iPhone.
Sure, you could throw on the TV news and hope Al Roker (in town today) brings you an accurate meteorological report. But you dislike Al Roker. (Something about his infectious jolliness.) Enter this, which tracks weather using real-time cloud data displayed on a 3D virtual earth (yes, it has that flight-zoom effect of Google Earth).
So picture it: it's two hours from now. You're waiting for that impressive order of pizza you called in (ah, snow days). You'll use this to see the actual path of the storm over our lands. It'll also track ice accumulation, snowfall... and global earthquake and volcano activity (handy for your volcano-diving excursion next month in Italy).
It even presents your Twitter friends' and followers' weather tweets and geographical locations on a virtual globe.
It's okay not to tweet @KimKardashian if there's an inbound earthquake to her house.