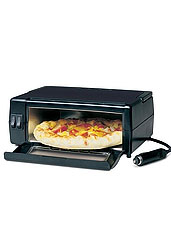 Hey, let's go on a road trip.
Doesn't matter where.
You make the playlist...
We'll bring the portable pizza oven that runs off your car's battery.
Grab some grated parmesan/crushed red pepper and say hello to the
RoadPro 12-Volt Oven and Pizza Maker
, an incredibly handy device that plugs into your car charger and churns out pizzas in the passenger seat, available now.
First, a few quick facts about pizza ovens. 1) They're wonderful. 2) They're huge. 3) They burn wood at like 800 degrees. So naturally, someone came up with the genius idea to put one in your car. Also, the genius idea to swap wood for a 12-volt charger and shrink the thing down to the size of a briefcase.
Now, say you're heading south to Mexico (or just stuck in traffic... whatever) and you get a hankering for a piping-hot margherita. That's when you'll plug this into your cigarette lighter. While it heats up, you'll go to work on the dough, the toppings, the not crashing into a telephone pole. When you're ready: pie goes into oven, oven chars pie, pie comes out, you consume pie, miracle completed.
And when you're done playing pizzaiolo, it's got a built-in handle so you can carry this thing around like a tackle box.
Or a pizza oven attaché case.