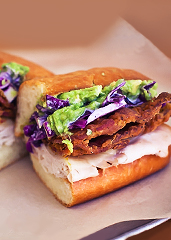 Look.
This hurts us as much as it hurts you. But see, your lunch... well, you did it wrong.
Because it could've been a porchetta sandwich from Lucca Delicatessen. Delivered right where you need it most...
Luckybolt
, a new service that might revolutionize (or, you know, improve) how you lunch in FiDi, online now.
These guys are like Santa Claus for lunch—bringing food from the city's best restaurants to the good boys and girls of FiDi. (We suppose the naughty ones can get lunch, too.)
Here's how it works. You sign up for a daily morning email. You open that email. Inside, you'll find a link to the menu for the day, and a lineup of restaurants for the week. Recently on the roster: Nopalito, Hapa Ramen, Bacon Bacon and Green Chile Kitchen. And tomorrow: Cedar Hill debuts.
You'll place your order. (Pro tip: orders close at 10:45am, but they usually post menus and accept online orders before 6pm the previous day.)
Then, between 11am and 1pm, head to Market and Beale (starting Friday, California and Kearny will also be an option) and look for a bike. Hitched to that bike: a custom-made trailer. Inside that trailer: insulated cases keeping your lunch warm. Give the guy by the bike a knowing nod, and claim your food.
Telling him your name would probably work, too.