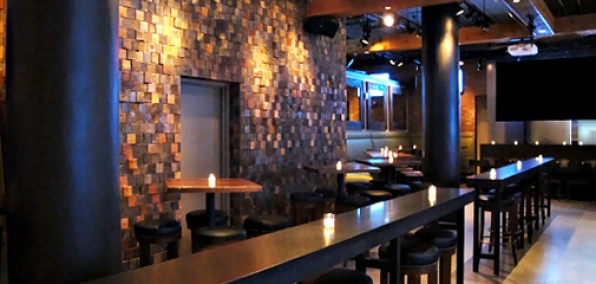 Sure, football's over.

But look around you. The Knicks are good. Hockey exists again. Seven trillion college basketball games are going unwatched by you every day.

You gotta dive in.

And have a slice, too.

Call it a day early and get yourself to Grey Bar & Restaurant, a capacious, wood-tiled lair of pints, televised sport and curiously exceptional thin-crust pizza, now soft-open.

This block's been busy lately. Trendy Korean at Hanjan. Whiskey and live music at the Flatiron Room. All that was missing was somewhere to shamelessly watch seven sporting events at one time. But this is it. Waiting with open arms for you to ditch the workday—seven flat-screens, an eight-foot projector and... diver scallops with barley risotto.

That's the key here—subversively ambitious bar food. And honestly, we're not going to tell you to go anywhere but straight to the beer-bottle-chandeliered bar. By all means—belly up, have a Goose Island IPA or an Irish cider, watch Weber State basketball. That kind of thing.

Just make sure to try the pizza. It's not screaming at you from the menu. This isn't a pizza place (at least it doesn't know it is). But to have the shrimp-and-andouille thin-crust is to believe.

Damn, you sure get dramatic about pizza.