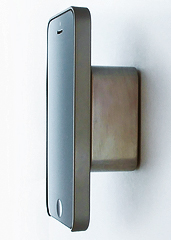 Hands.
If you think about it, they're like... really important.
For shaking other hands. For gently running your fingers through your hair. For high-fiving people when the power comes back on at some football game.
In fact, sometimes you wish you had more of them.
Or at least the next best thing.
And that thing is
JustMount
, a tiny magnetic box designed specifically for holding the metal contents of your pockets (like Chinese throwing stars or your iPhone), available for preorder soon.
So... magnets. If you've got something metal that needs a good sticking-to, they're your guys. And this thing is no different. Except that it's made of aircraft-grade aluminum, looks like industrial art and is capable of putting a surprisingly convenient death grip on your iPhone.
Just slap one of these shiny little boxes near the front door and put things on it. Keys. Phone. Suit of armor. Everything you need will be in one place.
The mount itself is currently in the final stages of production, but you can go ahead and grab the magnetic iPhone case now. It doubles as a kickstand and has a built-in earbud holder.
That's right... a built-in earbud holder.