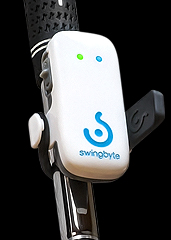 It looks like Tiger's back to his old form again.
Which is nice for him and all, but winning your first major just got a little more daunting.
Well, hey, you know what they say about drastic times...
They call for robot golf coaches.
Tee it up for
Swingbyte
, a Bluetooth-enabled golf club attachment that records your swing for some post-round analysis/rapid improvement, available now.
Think of this like your very own personal golf coach. You're going to attach it to your club, you're going to swing said club, and the device is going to compile a bunch of important data (head speed, tempo, angle of impact, other golfy things). Data that can be used to eliminate your slice.
So it would really come in handy for your weekend scramble/next week's Pebble Beach Pro-Am. Just procure one online, stick it into your golf bag and then place it on any club (all of them) you'd like to improve your game with.
Then once you're back at the clubhouse, you can pull up the app, pore over stats like swing plane and club acceleration and watch your swing played back in 3D to see what went awry.
No funny glasses required.