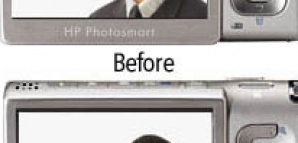 Summer is just weeks away. Your body, however, is still storing enough fat to last you through winter 2007, leaving you with the unenviable task of cutting down on the alcohol and those 4 a.m. pepperoni pies if you want to look your best.

Luckily, there's no need to do either. Since stumbling upon Hewlett Packard's new Photosmart R927 digital camera, we've managed to look camera-ready well before our weekly Equinox sessions kick in. Apart from a stellar list of features like 8.2 megapixels and 24x zoom, the R927 comes with a built-in slimming device that'll knock up to 10 pounds off your frame (think you, circa 1990).

Just click on the application button and the R927 will compress the frame's center pixels and expand those along the perimeters, leaving you looking the way you did before mother nature turned her back on you.

But beware: the camera may also distort whatever or whoever is on the photo's edge, so unlike Don Corleone you may want to keep your friends close and your enemies far away.