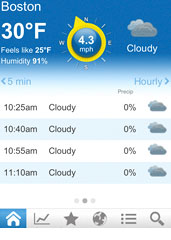 It snowed again. What a surprise.
It's gotten to the point where you pretty much expect it to be cold, rainy or snowy every time you look out the window.
Still, you'd like to get an accurate forecast once in a while. A very accurate one.
Plan accordingly with
Nooly
, a hyperlocal app that uses NASA satellites to make extremely accurate weather predictions, available now for iPhone and Android.
You know how this feels: you check the weather. Choose your shoes. And a few hours later, you realize those generalized forecasts you got didn't quite hit it right (to the chagrin of your suede desert boots).
This helps solve that. Next time you want an accurate weather prediction that's specific to where you're standing, pull this up. It uses the collective brainpower of NASA satellites, experimental weather-sensing technology, algorithms created by actual meteorologists and your phone's GPS. The result: a forecast for every .4 miles, updated every five minutes (handy, considering your plans can change on a dime).
The bonus: it analyzes convective cells in the clouds to know exactly when, say, light rain should turn into sleet downtown the night you're catching a show.
Convective cells have a horrible weather poker face.