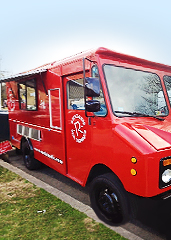 Today's high: a balmy 29 with late snow showers. In other words: a great day to send you outside.
It's not as crazy as it sounds. It's in pursuit of food that can steel you against some of these unforgiving elements.
Which is on board the
Rocklands BBQ Truck
, now rolling as the mobile version of one of DC's top BBQ joints.
You're already familiar with their work, but now they've got a red mail truck carting around their smoky, saucy, meaty wares.
So you'll follow them on
Twitter
. You'll layer up. Then you'll head out to procure some meat. Some things you'll recognize: pit beef, chopped pork, hot Italian sausage and sides like baked beans and macaroni salad. And some you might not: namely, the
Double Dog
—two dogs with cheese and onions on an oversized hoagie roll, so it's a little cleaner in case you're crazy enough to eat it on the sidewalk.
And they're catering, so if you're looking for one final element in your Super Bowl blowout, have them roll up to your place at halftime.
It beats watching Beyoncé lip-sync.