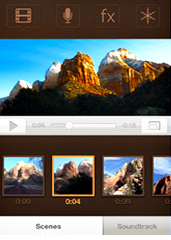 Bad news...
You blew your chance.
See, while Spielberg and Affleck have already secured best director Oscar nominations (wait... no Affleck?), you totally missed the deadline. Forgot to submit.
Forgot to even make a film.
Well, that's okay. There's always next year.
And at least it's really easy to make a movie now.
Step behind the camera with
Lumify
, a foolproof app for shooting, editing and producing videos on your iPhone, available now.
Well, this should jump-start your film career. Because it lets you shoot a bunch of video clips, and when you're done, it'll analyze everything and automatically make edits. Shortening a scene here... creating a better transition there... until you've got yourself a real movie fit for Hollywood. Or your Facebook wall.
To get started, just fire up the app and point your phone at things. You know, movie things. Like a herd of galloping horses. Or a floating plastic bag. Or a John Cusack. Then simply click a few buttons and let Lumify handle all the postproduction heavy lifting (pretty sure this is what Scorsese does).
Now, you could stop there. And you'd have a perfectly fine film. But knowing you, you'll probably want to add some music for dramatic effect. Good thing the app lets you directly sync up any track from your personal iTunes collection.
You knew you downloaded "Danger Zone" for a reason.