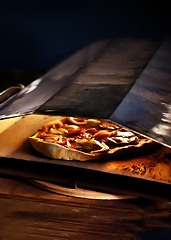 If the Falcons win on Sunday, they'll be in the Super Bowl.
If they're in the Super Bowl, you'll want to throw a party.
And if you throw a party, guests will probably want some wood-fired pizza. Made from a futuristic contraption. On your deck.
And if they want... all that, well, they're out of luck. That doesn't exist yet.
But looking forward to Super Bowl 2014, there's
Uuni
, a compact pizza oven that cooks your pies in a matter of minutes, available now for preorder.
Wood-fired ovens. They're generally enormous, made completely of stone and reserved for restaurants ending in a vowel. Which... is exactly what this thing is, only stainless steel, 11 pounds and shrunken down to the size of some carry-on luggage. Yup, this really might come in handy on Sundays.
Think about it—there's literally no downside to keeping one of these things around. Last time someone said, "Gee, I wish there wasn't a miniature oven on this patio pumping out perfectly charred margherita pies at a clip of one per every three minutes"—never.
All you need to do now: put in a preorder. Then, when the thing eventually arrives, just fill the back burner with wood pellets, toss some dough in the air, cover that dough with toppings and slide it in the oven. Congratulations, you just became a local hero.
Again.