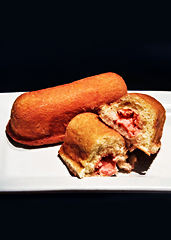 Here's the thing about Twinkies: they stopped making them.
Here's the other thing about Twinkies: they didn't have foie gras in them.
Here's the other other thing about Twinkies: Leon's is bringing them back. And they put foie gras in the center...
Give a hearty hello to the snack with a snack in the middle... with another snack in the middle:
Foie Gras Twinkies
, available at the chef's whim over at Leon's Full Service.
From the outside, it looks just like your regular old Twinkie: golden. Spongy. Delicious. The catch: well, this one just so happens to be injected with whipped cream, maple syrup and housemade foie gras. (It's the kind of outside-the-box thinking they could have used over at Hostess.)
Now, if you think this is something you need to try... you're right. Also, there are a few things you should probably know first.
1. Yes, you can most certainly taste the salty, fatty duck liver. But don't worry, it's subtle. Almost refined. Like any good Twinkie oughta be.
2. These things are rare and extremely limited. The best way to track them down: follow Leon's on Instagram to see precisely when the pastry/charcuterie chef is making a fresh batch.
And how that batch would look with a nice sepia filter.