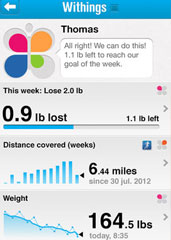 You committed to exercising more in 2013.
As soon as a gadget was invented for tracking every movement you make, that is.
You're almost there...
Meet the
Smart Activity Tracker
, a tiny electronic device that turns your morning walk to the subway into proof of physical activity, accepting email sign-ups now for its release date.
This is brought to you by the company that created that wi-fi scale that allows you to tweet your weight for motivational (or just sadistic) purposes. Like that product, this one's pretty clever. Once turned on and dropped in a pocket or an athletic armband (it's only eight grams), it'll monitor your steps, distance and calories burned for everything from the ascent to your blind date's fourth-floor walk-up to rigorous gym workouts.
If you sync it with your phone via Bluetooth, you can also set up daily alerts to work out. Touch your finger to the sensor on the back, and it'll measure your heart rate (which shouldn't be racing climbing those stairs, by the way).
And if you download their separate
phone app
, you can track your fitness progress in detailed graphs and charts.
When charts are involved, you start to pay attention.