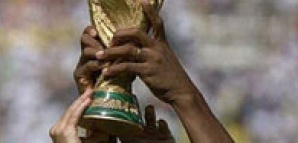 World Cup madness starts this Friday, which means a month of crazy cheer songs, international hooliganism and Posh Spice sightings.
Below, our picks for where you should go to gather, drink and salute your favorite soccer-loving countries (when else do you have a chance to get behind Ecuador?).


TONIC
,
727 7th Ave
, 212-382-1059
Lowdown
: We've heard no one parties like UN diplomats, and they'll be at this three-level mega bar—the German Consulate is throwing a kickoff party there on Friday, and the Australian, Swiss and Dutch Consulates are also booked in this month. Alcohol from each nation will be tailored for specific games, in an important step towards building international understanding and tolerance.

MUNDIAL
,
505 E. 12th
, 212-982-1282
Lowdown:
Go where the players go—the owners of this soccer bar also own some local NY soccer teams, so this is a favorite hangout for local players. A heavily Brazilian, Mexican and Argentinian crowd is expected during World Cup so be prepared for some real soccer revelry.

OPIA
,
130 E. 57th St
, 212-688-3939
Lowdown
: The only thing sadly missing from the World Cup is halftime dancers. Luckily for us, Opia's taking care of that with live Brazilian dancers at half-time, dancing the samba in traditional Brazilian gear (we're glad to hear it involves bikinis and feathers). A DJ will spin international and Euro music for this upbeat European scene.

THE YARD AT THE SOHO GRAND
,
310 W. Broadway
, 212-965-3588
Lowdown
: No matter how much you love the city, nothing beats a back yard. Head to the Soho Grand's to relax on chaise lounges in front of three Panasonic flat screens. The outdoor bar has mojito popsicles spiked with tequila, and the BBQ will grill up perfect game-watching food like burgers, Jamaican chili shrimp and Mexican grilled corn on the cob.

NEVADA SMITH'S
,
74 3rd Ave
, 212-982-2591
Lowdown
: This is "where football is religion." The ultimate soccer bar in New York is clearing out all their tables and chairs to make room for the guaranteed chaos given its "die-hard fan" clientele. This is where to experience true football-watching glory—which apparently must include traditional meat pies and copious amounts of lager. Just don't use the word "soccer" there or you might get pummeled.