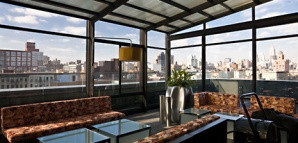 The rooftop scene is its own special art form...
And while a
throng
of
rooftop
establishments
usually opens just as summer begins, it takes someone with a lot of chutzpah to open up a rooftop in the dead of winter.
Welcome to
Above Allen
, now open at the ever-expanding playground that is the Thompson LES hotel.
Reminiscent of its laid-back cousin A60, AA is more like an urban greenhouse with booze instead of plants, if greenhouses were on the seventh floor of
boutique hotels and featured retractable roofs. Which means it's perfect for a mellow cocktail-with-a-view before the summer masses crowd in.

Pomeranc and Co. are up to their old tricks, stocking the venue with beautiful women and small bites from Shang, all against the backdrop of sweeping views north, west and south. AA is only open on the weekends for now, so you'll want to show up with a date, post-dinner, not ready to quiet things down just yet, and situate yourself in the NW corner with the best views. In the summer, AA will go the A60 route, so you'll need a special card to get up to the seventh floor action.

But don't let that stop you: If you get denied at the hotel lobby, sneak around to the Orchard Street Shang entrance, head up to the second floor and catch the elevator from there.

But in case anything happens, we don't know you...