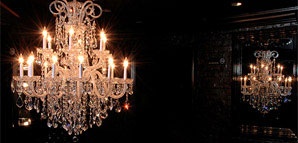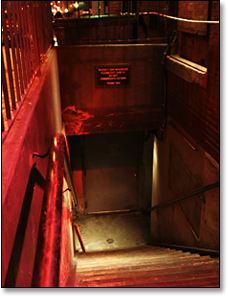 It's hard to keep a secret bar secret these days.
Even speakeasies seem to have public relations teams.  
So it's refreshing when we come upon a bar that isn't open, won't let you in and may not actually be a bar.  
Introducing
Woodson
and Ford
, destined to become the next great underground scene, now open (sort of) in Noho.
Officially only open for private events or for those with the password (hint: it's not fidelio), it's going to take a little work to get in (easy way: book a private party). But once you make it down the stairwell, past the bouncer and through the unmarked basement door (pictured above), you'll find yourself in an absolute stunner of a dimly lit old-world drinking spot—three rooms lit by Edison bulbs and black chandeliers, stocked with antique British furniture and lorded over by a grand piano, not to mention a secluded parlor room perfect for that secret society you've been putting together. 
The space 
supposedly also has a bit of history
as a photo studio where
Abe Lincoln was shot (not like that), a brothel where two prostitutes had their throats slit and a pub where Walt Whitman and Mark Twain hung out. Which means it's the perfect place to cozy up amongst the taxidermy, sip on Death & Co.-style cocktails like the Woodrow Wilson (rye, amaro, champagne, orange zest) and ponder your place in history.

Or just your next drink.