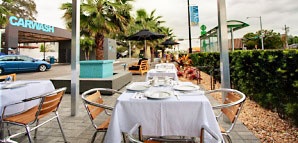 It's hard to trump a historic day like today. But the President is sure trying...

Introducing Metro Bistro, Miami's first-ever pub and organic restaurant located within a car wash, now open at Karma Car Wash.

Designed by an Arquitectonica alum, the bold vision is like a high-design clubhouse—polished concrete floors and soaring ceilings give you the sense that anything is possible, that hope is alive in America, and that no longer will you squander those twenty-odd minutes while your car is being washed...

Here's how we see the scene playing out. If your car just needs a quick once-over, drop it off with the cleaners and belly up to the bar for a cold one—there's Dogfish Head and Chimay Tripple on tap. But if a leisurely meal is more what you're looking for—and why wouldn't it be; you're at a car wash, after all—toss the keys to the guys for a full-detail job, then head to the teak tables and comfy couches of the outdoor patio, thoughtfully outfitted with plenty of Biscayne-buffering plants.

The menu is mostly organic, from the baby arugula tossed with chives and goat cheese to the ahi steak sandwich served on organic beer bread.

Yes, beer bread. We think it's what Washington would have wanted.