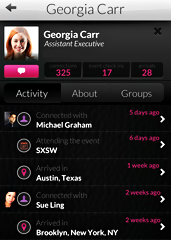 Remember that one scene in
Up in the Air
when Clooney was on a business trip and met that girl at the bar and things went really, really well for him...
Well, sometimes it's just that easy.
Then again, sometimes it's not.
So let's go ahead and take dumb luck out of that equation, shall we...
Give a subtle wink and nod to
Here on Biz
, a new iPhone app that automatically syncs with your LinkedIn account and shows you exactly who else is traveling on business in your immediate vicinity, regardless of whether or not they're already in your connections list, available now.
In its purest form, this thing is for networking. But it's also for... networking. And in the interest of not wasting anyone's time here, we'll just focus on the latter utility for now.
After you download the app, click the LinkedIn icon. That's the part where it puts all your profile info in there. Play around a bit. Click the button that says "nearby" and see who pops up. You can even text them right through the app. Good. Now get on a plane and go to some conference in Culver City.
It'll work exactly the same there. Only the people will be different. And probably in your hotel. Which is convenient to very convenient.
From a career perspective, of course.