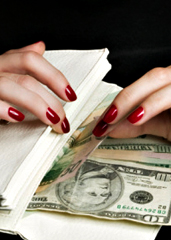 We are so proud of you.
You're firmly sticking to your New Year's resolution: to sit on the couch and watch as many
Portlandia
episodes as possible. Such an inspiration.
Now, for that other resolution—the one about going to the gym more—you're about to get right on that.
Meet
Fitsby
, a cunning app that uses that old motivational trick known as gambling to keep you active, available now for Android.
We know you usually don't like to trade noble intentions for filthy lucre. So just consider this a way to keep friends, family and strangers on target for
their
gym attendance.
You'll wager an amount of your choosing that you can be at the gym the most in the next, say, 14 days. Then invite people to pick up that action—the more people who accept your challenge, the larger the pot.
Each time you go to the gym, check in. Stay for at least 30 minutes, then check out. You might even lift a weight or two while you're there, to kill time. The person who checks in the most during those two weeks will receive the money via PayPal.
There's a catch, of course: Fitsby uses GPS to determine if you're really at a gym. Your P90X/ThighMaster/
Buns of Steel
home sessions won't count.
Though your buns will still be very steely.