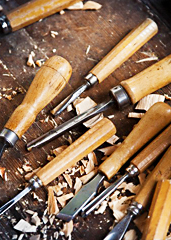 This is big.
Huge.
In fact, you may even want to sit down for it.
Ready, here goes: wood.
You know... wood. Tons of it. The glorious kind. The kind that a few local guys just turned into some really handsome furniture for your place.
...
Fine. But still...
We just thought you should know about
Lamon Luther
, a Georgia wood shop turned webstore brimming with all manner of weathered dining room tables, kitchen islands and even the occasional damn chalkboard, online now.
This is exactly the kind of scarred-up, blond- and ash-colored woodiness you'd see under some type of charcuterie scenario in a dimly lit tapas bar. Or something. But nope, it's just some crafty guys from Douglasville. They've got a knack for turning old houses, barns and shipping pallets into iPad stands and hand-waxed tables.
So take a look around. Click on some stuff. Most likely you're here for a table. And look, there's a heart pine island bar that'd be great for chopping broccoli. And check out that farm table. It's the perfect place to sit down and eat some dinner. Nothing flashy. Just standard operating procedure.
They've got plenty of everyday miscellany, too. Like wood-framed chalkboards stained with iron and little desk clocks and a six-shot pencil caddy.
Hopefully you have at least six pencils.