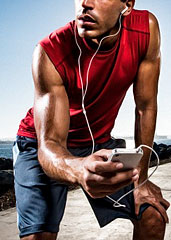 You've polished off the last of the holiday sweets. Engaged in egregious acts of couch-centered sloth. Enjoyed a full week of pizza-breakfasts.
It's been fun. But it's time to get fit.
Let's start small. Say, running. To music that automatically adjusts tempo based on your own.
Loosen the hamstrings for
Cruise Control: Run
, an app that causes your phone's music to mirror your jogging pace, available now for iPhone.
This is sort of like if your DJ were also your running coach. With this app, your phone's music will match the tempo of any run. Be it an Usain Bolt–style tempo, or more of an "I really need to lay off the bratwurst" tempo.
Start by putting on running shorts. (If you don't own running shorts... get some.) Then, pull up this app on your phone and start jogging. If you're jogging slowly, it'll play slow music. If you speed up, it'll speed up your music.
And if you'd prefer to run at a particular speed, you can select songs and organize playlists that all contain the same beats per minute. It even maps out the routes and distances of your runs to track your progress.
Beyond the act of lacing up your sneakers, that is.