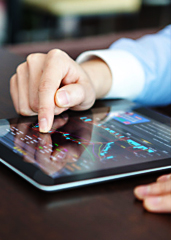 We don't have to tell you what day it is.
But we will anyway. It's Friday.
It's also the first one of the new year.
That said, we'll keep this brief. And easy to compute. And we'll try to avoid the word resolu...
Close one.
But while we were almost on the subject...
Let's take a look at
DayScore
, a so-simple-it's-kind-of-stupid website that lets you pat yourself on the back for all the little things you do (or don't) accomplish on any given day, online now.
First, let's review linear graphs. Lines going up are good. Lines going down are bad. Flat lines mean you're dead. Anyway, you get it. Moving on. You may be working on some goals right now. Well, this is a graph that shows whether you're sucking at them or not.
So anytime before bed tonight, open this site. You'll see a checklist. Customize it. Put things like "took the stairs" on there. And "ate a cherry tomato then high-fived Rick Springfield" on there. Start checking things off as you do them, and the score on the right will adjust. Then the graph at the bottom will show your corresponding worth as a person (we assume this is subjective).
The whole thing is designed to show you how productive you're being from month to month.
Or at least until this whole resolutions thing blows over.