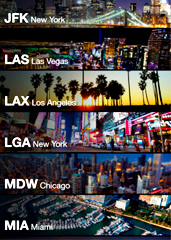 Hey, it's the end of the world.
...
Oh, wait. We're still here. That's cool. Guess you'll be flying out to see your family this weekend after all.
Hopefully, you'll have a layover or three.
No, seriously, that's a good thing. Assuming you download this.
Introducing
Airport Chatter
, an app for uncovering the steak-, lounge- and terminal-masseuse-related secrets in just about every major American airport, available now for iPhone.
This is about you versus MIA. Or LaGuardia. And about the app that'll make sure you never wander aimlessly around Terminal D looking for a properly made Manhattan again.
The program is kind of like a directional guide meets review site meets
Love Connection
. Basically, you'll download it to your phone the next time you've got two hours to kill in LAX. Then, you can use it to find key points within the airport (the bar), read reviews about them (martini was exceptionally dirty) and connect with other people using the app nearby. Yeah, okay, maybe don't do that part.
But say your layover in Colorado turns into a cancellation. No problem. You can use the app to make a quick exit and find exactly where the airport taxis are waiting.
We'll go out on a limb and guess "the street."