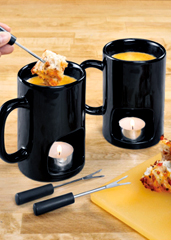 You're about to enter a December weekend. Checklist time:
Silky-haired date unafraid of spending long sessions sprawled out on a bearskin rug in front of a roaring fire in your Berkshires mountain cabin: check.
Well, that seems to be everything.
No, not quite. You'll need something savory to snack on. We're thinking fondue. But on a more intimate level.
Get some bread chunks ready for
Personal Fondue Mugs
, a brand-new weapon for your ski-lodge fireside seduction arsenal, available now.
Think of these as the answer when your belly says "fondue" and your brain says "that's a lot of work."
So picture it: it's you and the aforementioned date in your cabin. You both crave some fondue. You'll pull out these mugs. Then, you'll heat up some cheese or fudge in a pot and pour it into the mugs. Then, you'll place a tea light candle (not included) in the special slot at the bottom of each mug to keep everything warm and toasty. Finally, you'll dip your bread or strawberries into the fondue and eat it.
And since you may not want to use your hands, the mugs also come with four dipping forks.
One for you, one for your date and two for whomever you meet on the mountain.