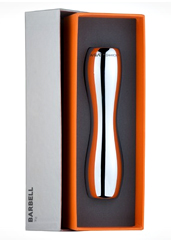 This week and next week, you revel.
And you should. It's the
holidays
(an old word meaning "aggressive consumption of food and drink over many days").
But after that, you're going to need to start exercising. Anything will help.
Meet anything.
Introducing the
Alias Chromed Single Barbell
, a shimmering piece of lightweight workout equipment created by the Tom Brady of the design world, available now.
Okay, a couple of things. First, if you make this 2.2-pound weight the focus of your forthcoming fitness regimen, it's not going to land you a spot at the next Mr. Olympia contest. Also, it sort of looks like the muffler on the silver spaceship from
Flight of the Navigator
.
But that's kind of what makes it great, too. It's covered in blinding chrome, and its creator is none other than Philippe Starck, the design guru behind Miami's fancy Delano hotel and the Mondrian in LA (so, you know, it's well designed).
You're going to want to keep this in your office, ideally near the wet bar, atop a filing cabinet or something. When you feel the urge to knock out a few biceps curls, pick it up and go to work.
Note: you can probably skip stretching.